Here are a few before & after projects that have kept me busy lately: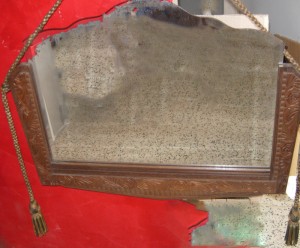 This  original art deco mirror in excellent condition was sitting in the attic of my 19th century house in  Brussels when I bought it, between some other small treasures that will show up here at one point or another. But it looks a bit too old fashioned. And the string definitely is diiiiiirty!
I updated it to a modern look with some white distressed paint, and varnished to last. A new cord has been added with a whimsical touch of copper string around the endings with soldered tin droppings The mirror glass is original and has fadings, discolorings by age. Beautiful wood carved details. This mirror now looks great in any interior!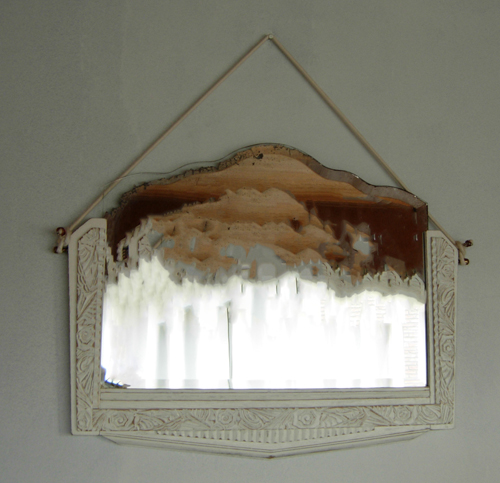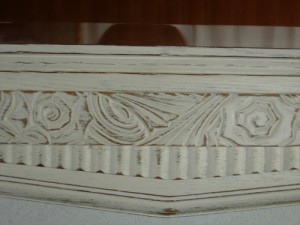 I hope you like it as much as I do. It's for sale on Etsy
A boring old bench that many years ago was sitting in my grandparents' garage. Used for family parties.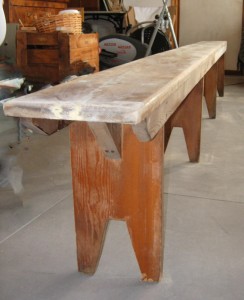 It had some tiny cracks, glued and clamped (oh those muscles grow while you are tightening those clamps!). Tiny holes filled with wood filler.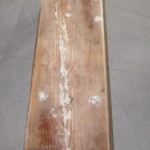 Two coats of white clay paint (great paint that sticks to anything! No need for stripping old paint/ varnish and priming, and don't we love that). A nice strip of silver paint, two coats. And two coats of clear wax to protect the paint and give it a nice shine. The bench is sitting in my very bare corridor. I must do something about decorating it! But don't you love this white & silver bench? It would look great at a long table for a big dinner party.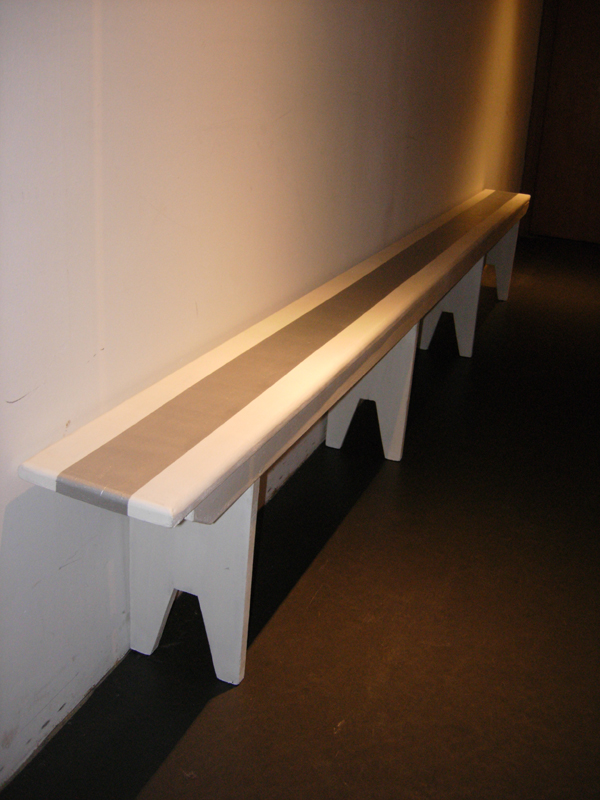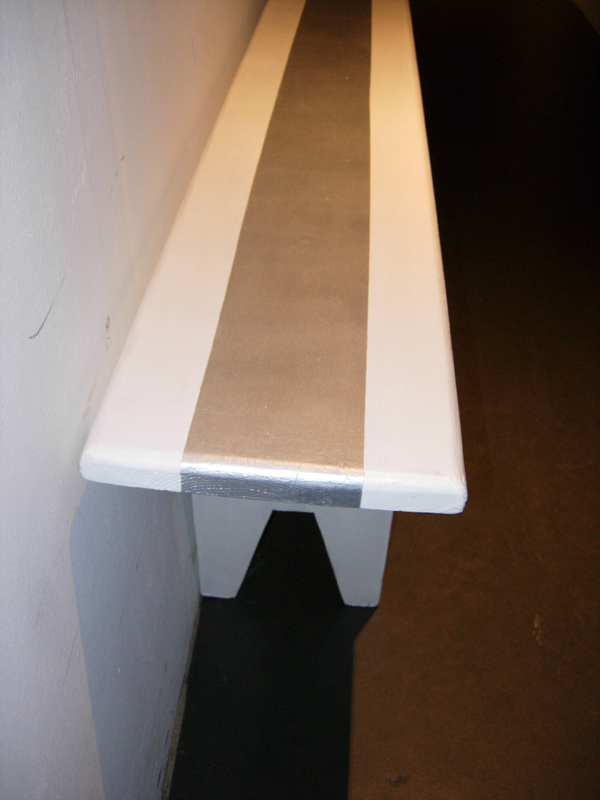 Last but not least: my very first project for my beloved teenage son: All made out of recuperation material. The headboard is made from this panel that was used as a separation in a shop for beds. I cut of the top part to make it straight, and sanded all the wood.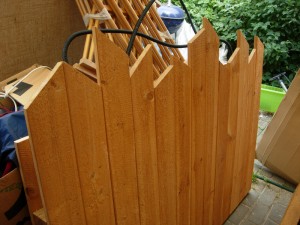 Then I took a double Ikea Dalsev bed, and made a single out of it. I cut the headboard lower, to attach to my new head board.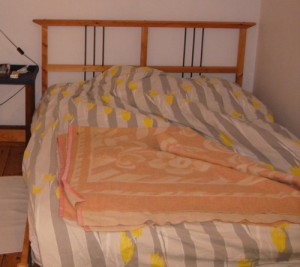 The new head and foot for the bed: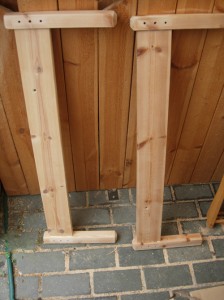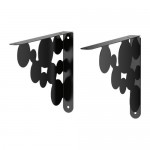 I also
made a nice shelf with more of that recuperation wood from
the shop and  put it on these Ikea Ekby Mans brackets
The final result is: tadaaaaaa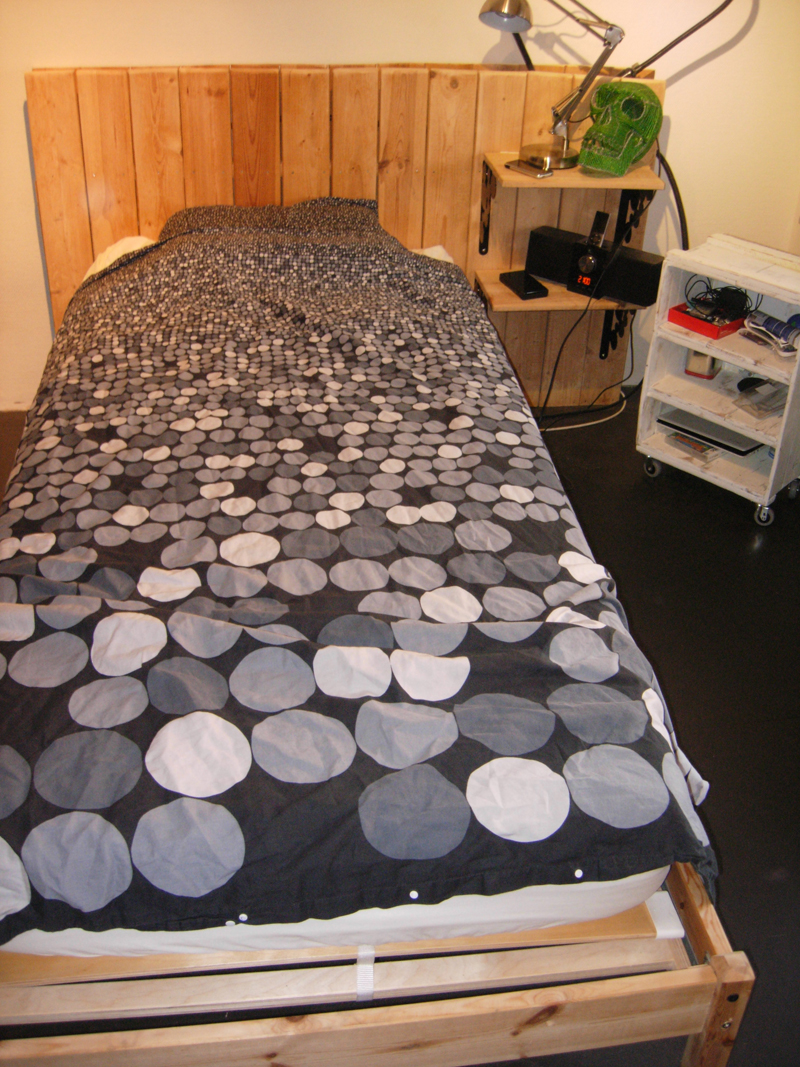 Pretty cool for a teenager's room, don't you think?
Yes, I have more waiting to show. But hey, that's all for today. I have to shine up some pewter products for the Christmas market on Saturday.