Mentality in Asia is so different. First of all you are a woman, why are you here? Why do you leave behind your husband and children. Does your husband not make enough money? (by the second trip husband was history anyway). They ask you all kinds of personal questions out of curiosity. Doing business in Asia, men usually get some entertainment. Going to gogo clubs, karaoke, massage parlours. Mr C once told me if I were a man, he would take me to a massage parlour now. I said: no, thank you! He also offered me to come and stay at his house. A Belgian friend living in Jakarta said this was an exceptional invitation and I should accept it. But I felt uneasy about this. And indeed, when he picked me up at the airport, he offered again to stay at his house. I told him I'd rather stay at a hotel. No problem, he said, my wife and kis are on holiday in Korea! No problem at all!! Yeah…
Business wise you always have to stay positive. Never get angry. They never want to admit they have done something wrong, they can't do something or don't know how to do it,  because then they loose face. So it's a lot of guessing work. And being extremely diplomatic. Which at times can be difficult because there is often a communication problem. Their English language skills are not very brilliant. So the important words are: modesty, harmony, saving face and patience. Lots of patience when you have to explain over and over again, with a big smile on your face, in a 100 different wordings, what exactly you expect from them.  I've learned a lot here!
Symbols are different in the East and the West. When I first talked about a snake design to Mr C, he said it was bad luck. A snake is not good, and no one would buy this. So I emailed my friends and told them about this idea. They all loved it! And to this day, it is the best selling design. With my Chinese horoscope being the Wood Snake, I would not expect anything less!
Of course being a conscientious designer , you also worry about local work ethics. Do the employees get decent pay? What are their working conditions like? And no child labour please!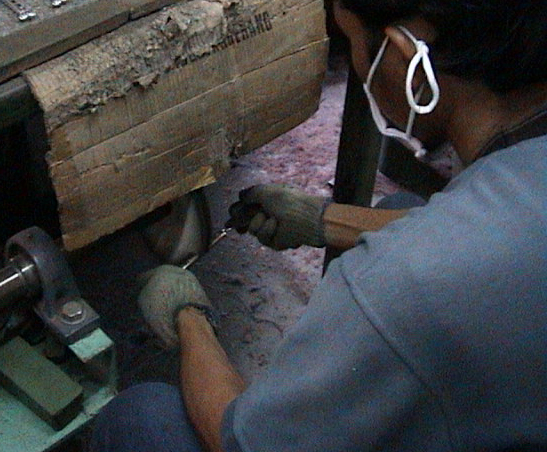 As you can clearly see: mask and protective gloves!
My friend Bambang Wijaya, who has an arts & crafts business in Yogyakarta is quite busy with fair trade products. This is the way to go. And we, the Western customer, still are not aware enough of what is really happening: how employees are treated, who makes the money? After all, don't you like to know that the hard working artisan can afford a decent life for his family, and offer a better future to his children? Or do you like the idea of Chinese slavery? Are we selling our soul for a cheap deal? This is something to write more about in the future. But first I will continue my story. Next: a trade show in Paris.