When blood freezes in your veins, life changes. But mostly: "Never look back unless you are planning to go that way." ( Henry David Thoreau ) So with my head high I will go forward, at my pace, at nature's quiet pace. And remember: "If a man does not keep pace with his companions, perhaps it is because he hears a different drummer. Let him step to the music which he hears, however measured or far away." (Henry David Thoreau)
"The blood froze in my veins" or "My blood curdled" — these common figures of speech can be taken literally, as studies have showed that stress and anxiety can influence coagulation. In November 2008 I was hospitalized (and immobile in my bed) for 10 days due to a massive deep vein thrombosis with floating bloodclots. Massive meant from the groin to the foot, my deep vein was blocked. The floating bloodclots risked shooting away, ending up in my brain, lungs or heart. Which could be mortal. I was under severe stress in the weeks before the event. DVT is very often a hereditary condition. My dad has had at least 3 of which 2 with a pulmonary embolism. My youngest sister had 1. Tests have shown I have a Proteine S deficiency. Which means I can never take the pill again (nor should my daughter when she is older). I have to give myself an anti-coagulant shot when I take a flight that is longer than 6 hours. I should do sports several times a week, and yes, I will really start again this time. I already agreed with my friend Alison to run the 10 K in the Semi-Marathon International de Nice next April. This will be the third time. I should not forget to take my Omega 3 on a daily basis. I admit, I've been slack. And I've let stress creep on to me again.
So this morning, after a really bad night's sleep, I woke up with a cramp in my left leg. Just like the one I had in 2008. I trusted my gut, skipped furniture restauration class and went to the doctor in stead. My left leg is 3 cm thicker than my right. An ultrasound confirmed, I have another DVT from the knee down. 6 months of anti-coagulants, but luckily no hospitalization.  Two weeks of a daily Fraxodi shot and Marcoumar treatment long term. I wonder what Marcoumar will give, as the treatment with Sintrom last time was hell. My blood coagulation level was never good, too high or too low. What can I say? Life is good, I'm getting new chances all the time to re-design my life. Live the best life you can!
So in stead of a busy day at class and then running around from one shop to the other, meeting with someone for a Christmas market, I am now home. With a big plate of comfort food: homemade hummus bin zatar. With cherry tomatoes from my garden.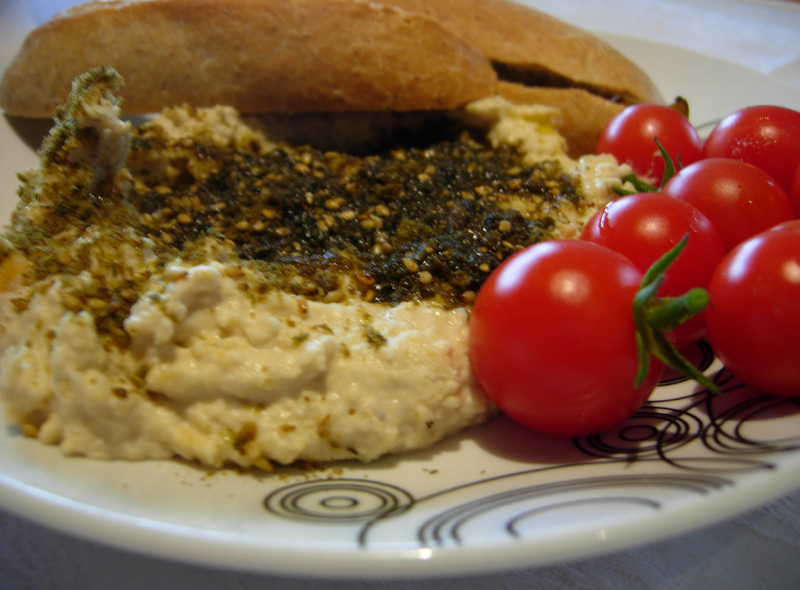 I had cooked chick peas last week and put them in the freezer. Homecooked chickpeas are higher in minerals than the canned ones.
Recipe:
1 cup dry chickpeas
3 cups water
1/3 cup tahini (sesame puree)
1/2 cup lemon juice
2 cloves garlic, crushed
For serving:
chopped parsley, sumac or zatar
1 tablespoon olive oil
Wash chick peans and soak overnight. Next day, boil chick peas for 2 to 3 hours -until very tender. The recipe asks you put 1 teaspoon of salt after 2 hours, but I don't do that.
Drain the chickpeas and reserve some of the cooking liquid.
Put chickpeas in a bowl, add the tahini, lemon juice, garlic and some salt and puree with a blender. Add some water if necessary.
Spread hummus on a shallow serving dish, make a hole with the back of a spoon. Fill with chopped parsley, or sumac or zatar spices (my favourite). The generously sprinkle with olive oil. Serve with some freshly baked flatbread. Bon appétit!
Source: The Complete Middle East Cookbook by Tess Mallos. A birthday present (many moons ago) from my dearest Syrian friend Angie.