I always seem to be doing 100 things at the same time. All projects in a state of progress, but none finished. There's the Art Deco mirror I found in the attic of my 19th century house in Brussels. The carved wood detail was lovely, the tassle distgustingly dirty. So I gave it an updated look in distressed white. Now I'm looking for a new tassle that won't break the bank. Today I saw one for 68€… No way!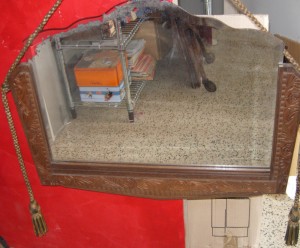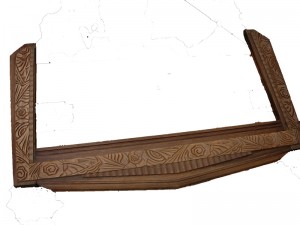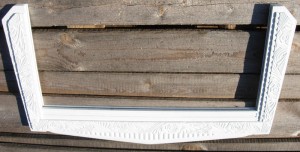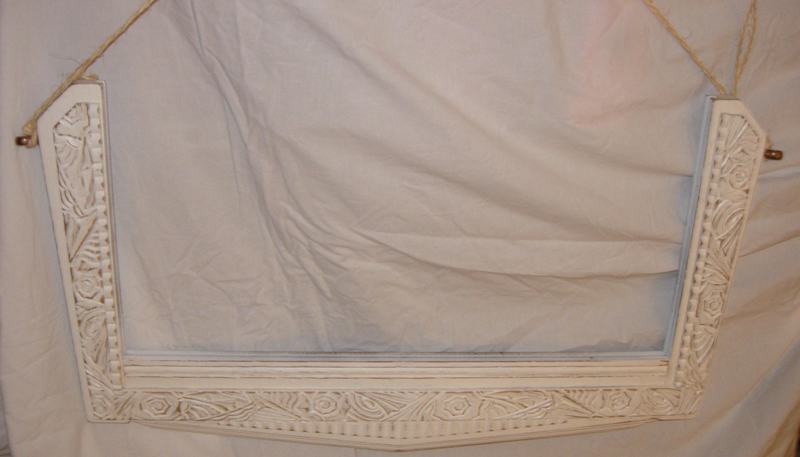 The mirror will be re-inserted once I have the new cord with tassle. Still art deco charm, but the distressed white gives it an updated look for any interior.
Then there is the wooden cabinet I got from my old neighbour when he moved: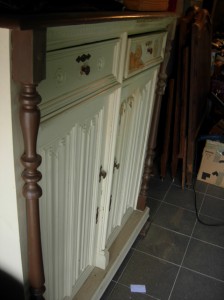 It has some nice details, but it needs another color!!! It is so blaaaah right now. The stripping is really slow.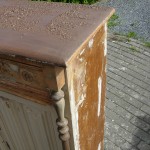 I've been using the classical paint stripping products for which you need to be outside. It's a health hazard! The summer in Belgium has been very wet, hence this project is advancing very slowly. I still haven't made up my mind in what color I will paint this, but it will be flashy! With silver inside.
My kids have outgrown their kindergarten school desks. The chair has been spray painted.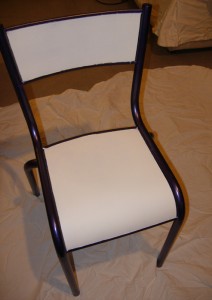 The desk is still waiting in the garage.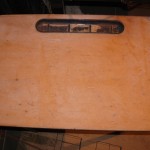 Spray paint goes everywhere, so you need to mask everything that does not need paint properly. I've had to do some touching up on the chair… And I discovered that stencelling with spray paint does not work.
Let's not forget my old school bench, also used by my kids. Now waiting to receive some color and drawings as decoration. Sanding off the varnish was a big job.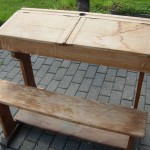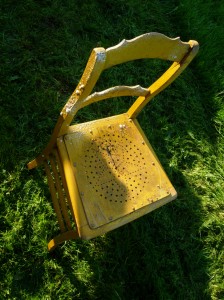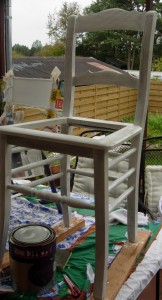 Two ugly yellow chairs (received from my old neighbour). The seating is worthless. Reading blogs has payed off, and I learned a new trick for stripping paint: oven cleaner! Spray on, leave 15 minutes, and wash down with a sponge. (I wonder if it will kill the weeds in my garden, an extra benefit!) A significantly lower health hazard. The first chair has been primed. Today I went to buy the foam and dacron to make a seat cushion. Tomorrow I will buy the fabric. Running around to different shops is keeping me busy.
Last but not least is my furniture making school project: a kiddie's chair. Twice a week I have class. This is how far I am: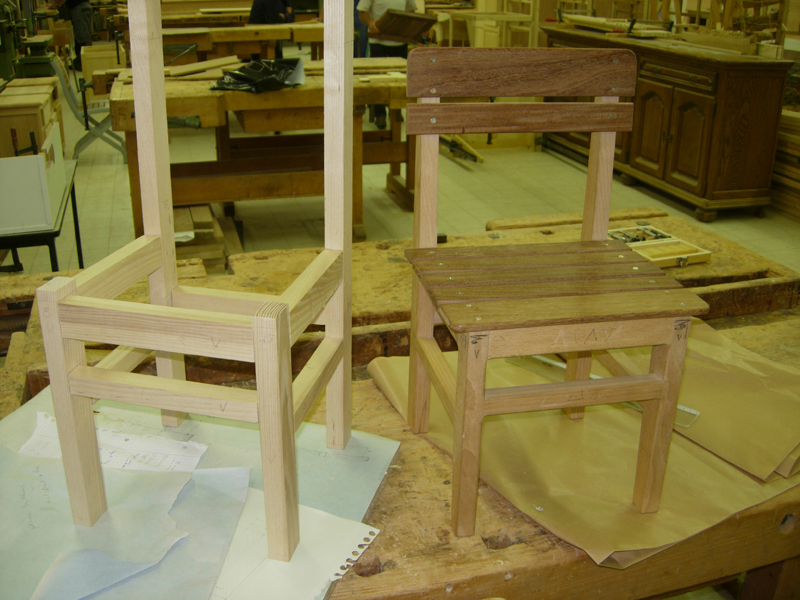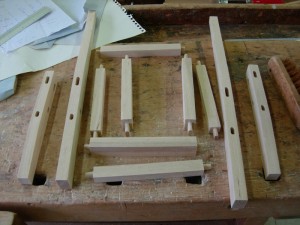 The "chair" on the left is mine, on the right is the example I have to follow. The smaller picture shows all the pieces apart. All is cut to exact measurements. The joints are called mortise and tenon, and handmade. Yes, by me! There is a lot of filing and fitting. Each piece has been sanded. The ends still need to be cut once the chair is put together again. Tomorrow morning I can continue working on this. I'm also smuggling a big board that needs to be cut to 30cm W x 1.96m L. I'm making a shelf to put above the radiator in my lounge.
I have used some old wooden beams to create legs as support. These too have passed through the big machines at school (cutting and planing). Glueing and clamping was done at home. I'm getting the hang of this!
As you can see, I'm quite busy, and looking forward to putting some finished projects here.