I'm a member of freecycle.org, which is a worldwide yahoo group subdivided in city locations. Brussels or Leuven in my case. It's a network to promote waste reduction and help save landscape from being taken over by landfills. So when you have something you don't want or need anymore, you post it online: Books and DVD's!  Grandma's wardrobe! I installed a new bathtub, who wants the old one? If you are looking for something, you can post too: My son's bike got stolen, anyone has an unused one in their garage? It's great when you move and can't be bothered with the hassle of selling. And sometimes just a fixer upper is offered: Old electric oven, does not work anymore. Any volunteers?
Beginning July I was just browsing the offers till I saw: come and empty showroom workshop. MDF panels, carpet rolls, wooden constructions, perspex price holders,… So I went to have a look. I showed up at 9 am sharp with another young man. He had just graduated in interior design. Just as I he was interested in the perspex. Well, there were about 60 price stands,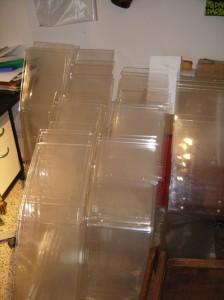 he just wanted 20 and I got the other 40. What will I do with it? No idea yet. I tried to cut it with my jigsaw, after looking at some instruction videos on Youtube. Not easy. The edges burned / melted pretty quickly. I searched a bit more for ideas on how to cut this without professional tools. And then I saw an idea of the tile cutter. I have one sitting in my garage/workshop. Now I just have to figure out how it works! Then I can start cutting and glueing. The top parts which are screwed on will be perfect as dividers on shelves.
Anyway, I wasn't done collecting stuff. The shop owner walked me around the vast showroom, which once used to be full of bedroom furniture. He had these pinewood room separations with light fittings coming out of it. And some bigger panels in the same pinewood. That was knocked apart in planks. But he was adament these stands should stay as is.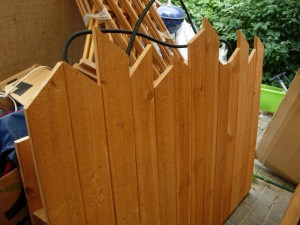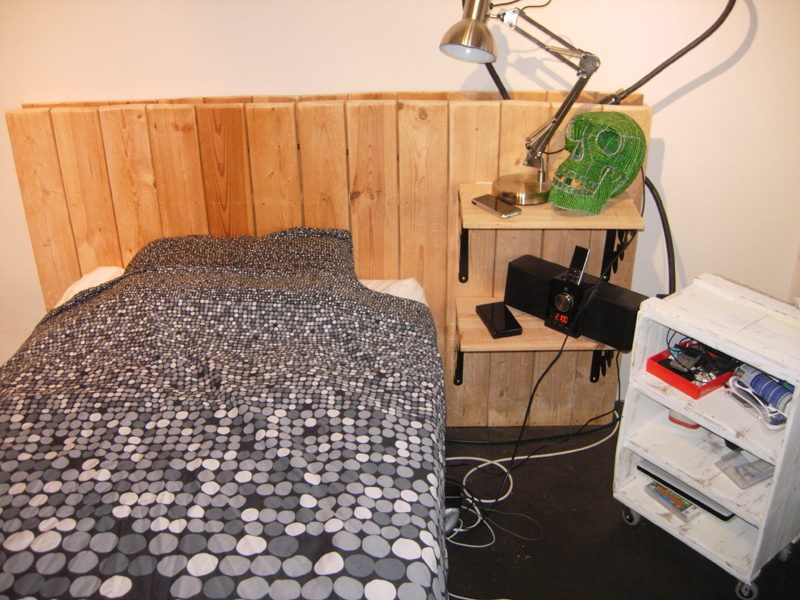 Well, I cut off the pointy edges, sanded the wood and put two shelves on one side. A headboard for my son's bed. There are 6 more sitting on my terrace, + 2 I have knocked apart since (68 panels knocked apart, 272 nails removed – my wrist hurt for several sleepless nights). My next major project will be creating a fashionable wardrobe for my daughter, Forever 21 style: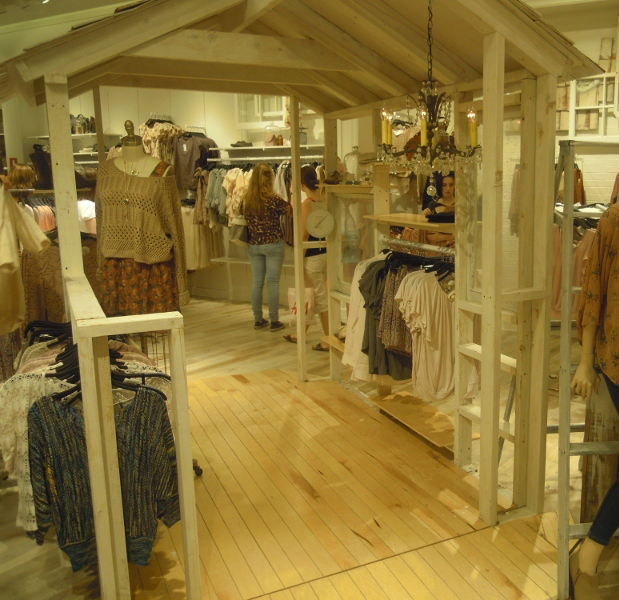 Well, a bit smaller. She'd like to have a corner wardrobe.
Still, we are not done yet. Apart from one 9 m3 van with panels, I also moved 9 m3 of scrap wood. My intial plan was to cut it up and burn in the wood stove. But when I started moving all these wooden beams and planks to the back of my house, I thought: some of this looks pretty good! Hey, Piet Hein Eek! (see my first post New Beginnings)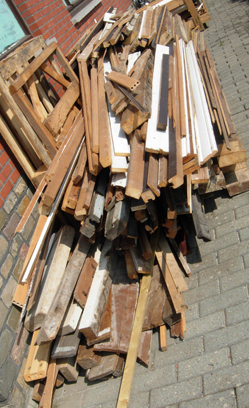 In one of my next posts I should talk about all the power tools I bought to deal with this pile of scrap wood. No answer yet to the question: Is scrap crap? But you can be the judge of that in the near future. Enjoy your weekend! And I will be back on Monday.