11 years ago, when I became a single mom, I barely knew how to put a nail in the wall. I had never held an electric drill. The most powerful tool I had ever held was probably a wood splitting axe, when in a fit of anger and frustration I chopped up an old coffee table. Being an avid cook, I was mostly specialised in kitchen tools. So when I had to hang up a ceiling lamp, or drill some holes to put up a shelf, I kindly asked my male friends. Who were always very obliging. Probably because when they finished with the power tools, I showed them what I could do with my kitchen tool skills! In 2004 I bought my first house, a 19th century small "maison de maitre", in dire need of renovation. The whole house was stripped (carpets, vinyl and lineoleum flooring, wall paper, rotten kitchen, …) with the help of some friends. I bought some essential tools in the mean time, and inherited some of friends leaving the country.  But I hired contractors to do the big work. Afterwards, my kind male friends would come and do the finishing touches: drill the holes! If I would ask: please teach me how to drill a hole!, the answer was: Oh, just call me. Until the last one left the country. So one day, tired of waiting for someone to come around, I just picked up that drill. And well, luckily, I still had a packet of plaster to fill up all the the disasters. But I learned. I also learned about stuff that I hang up, could come crashing down again.  The wrong size plug or screw. I bought a simple electric saw to cut the old wooden beams recuperated from the attic, to burn in my woodstove. And occasionally I used a small sander to touch up something. In 2009 I took a private silversmithing course, and also learned about the lost wax technique, so I could improve my designing skills. And especially make my own prototypes (more about my functional art designs some other time). I would practice in the living room of my rental apartment, working with my Dremel tool in the evenings on silver rings and other trinkets. Not so much to the liking of my upstairs neighbours! I needed a freestanding house with a workshop.
I bought the house I am living in now in September 2009, a 1968 disaster I must admit. After one of the driest summers of the century, a very wet winter revealed the water infiltration problems in the cellars.  This and a few other not so welcome surprises consumed all my savings. So slowly I've started doing more handyman jobs around the house myself. First powertool I bought: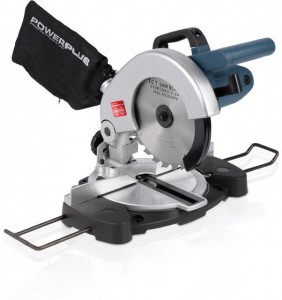 It was meant to recut the old skirting boards, which I must admit I still haven't done. It also cuts wood for my wood stove. And now it cuts up the wooden planks I use for my recycle designs. It has a pretty good safety harness around the circular saw. But this also limits the size of wood you can use (thickness). One of my workmen once asked if he could take it off, to cut a bigger piece of wood. No way! I said. I like to keep my fingers…
Summer 2011 started, and I ended up with the big pile of wood you read about in my second post (Is scrap crap?). I looked at the jagged edges of the wooden panels, and just wanted them straight. My simple electric saw had been broken by one of my workmen, so I ran out and bought a jigsaw, with laserbeam. To make sure I cut straight.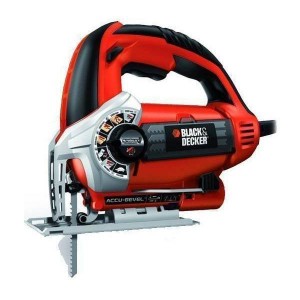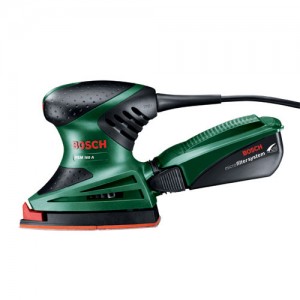 After having bought a simple sander to put on my electric drill, overheating in no time, I bought this fancy Bosch model.
The scary edge of power tools has gone, and I really like using them now. It's fun, and even relaxing.  My son was still sleeping on the floor, as I had no more money to buy a bed. With my new tools, I cut up a double Ikea Dalsev bed, and made a single of it. And fixed the homemade headboard to it. Within 5 minutes after installing it in his bedroom, I heard a big bang. The bed needed more screws and other fixations to make it strong enough for a 1.85 m (6″) tall young man. And I started realizing I needed to learn a few basics about furniture restauration and making. I registered for a twice weekly course. First thing I had to do was learn how to use a chisel and cut grooves in wood (where you fit another piece in afterwards). I still had a set of wood chisels from my dad, very rusty. So next lesson was learning how to sharpen them on the bench grinder (yes I got one of those too!) Not an easy feat. The trick is not to get uneaven wear when grinding (that too took me a few attempts). Then you have to smooth it on a honing stone on which a combination of oil and fuel has been applied. If you really really want to see how it's done, here is a great video: http://www.youtube.com/watch?v=uH_WfVAAtyg
And here you can see the result of my work: I still need to do some cleaning of the blades. The carving chisels are still in original state. I need a softer stone for that, but they don't have it at school. SO I'll have to find out what to get to do it at home.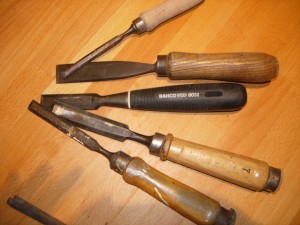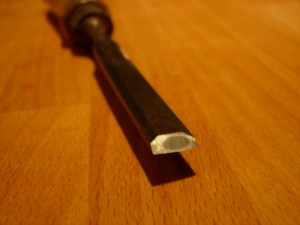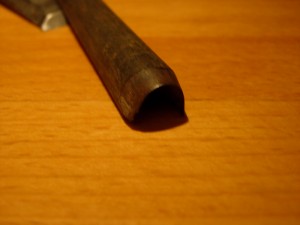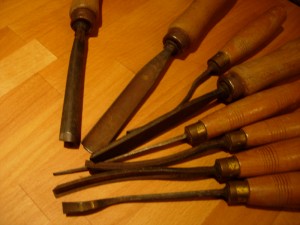 The first real piece of furniture I'll be making is a children's chair. Tomorrow is class again. I'll take some pics. In the future I'll also do some tutorials for some simple recycle designs you can do yourself. Keep your junk for now!